It's no surprise suspenders are a favorite groomsmen gift.
Not only are they fun, it's quite possible your bros don't have a pair.
Here's our recommendations for the best groomsmen suspenders.
Chic Floral Suspenders
Inner plastic teeth could protect your pants from being scratched by metal clip. Y back with 6 strong clips can help to keep your pants up, no slipping off.
The strap can be adjusted from 32″~49″/80cm~125cm (Including clips).
Leather Suspenders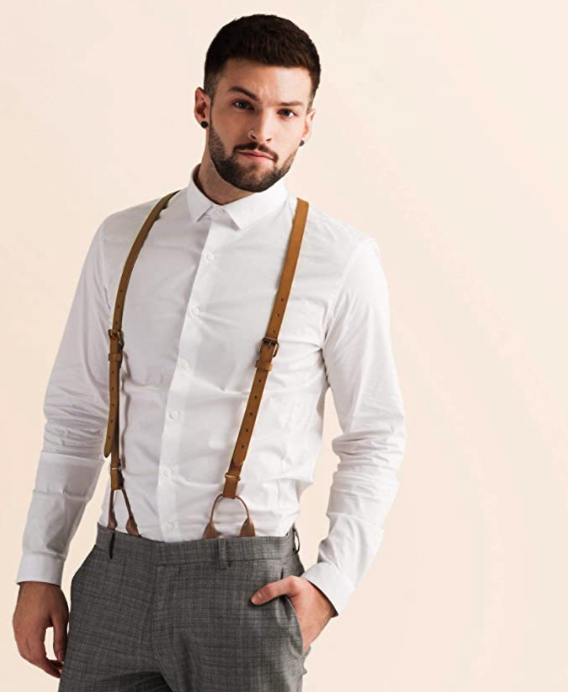 These cognac color clip suspenders can be worn with formal attire for work or a wedding, or paired with jeans and a shirt for more casual attire. The genuine leather detailing and gold hardware gives them a polished touch, while the suspender clips make for easy, comfortable wear.
These suspenders are designed for heights between 5'8 and 6'3 but fit may vary depending on body type and torso length. Return for full refund if fit isn't perfect.
They come in a super stylish burlap tote bag with other accessories included; such as a mini sewing kit, extra buttons for pants and extra suspender clips
Grey Suspenders with Brown Accents
These Y-shaped men's suspenders are made of high quality fabric and PU leather so as to stand the test of time and repeated use.
They are 49 inches long and 1.4 inches width ,their elastic nature facilitates wearing to the fullest.
Adjust the size to meet your torso's unique needs and feel comfy all day long. No more readjusting all the time. No more struggling with waist suffocating belts.
Heart Suspenders for Men
🙆‍♂️ EASY TO WEAR! The clips on these unique heart suspenders are easy to attach with stretchy straps and strong clips to jeans or skirts. Even though these novelty heart suspenders are at a great price, we know you will be able to rock the entire weekend without any issues. Sometimes you get more than you pay for.
👔 FASHION FORWARD! These heart suspenders are the perfect apparel accessory to complete your outfit. The men's fashion suspenders are elegant and ideal for any occasion.
Navy Suspenders with White Dots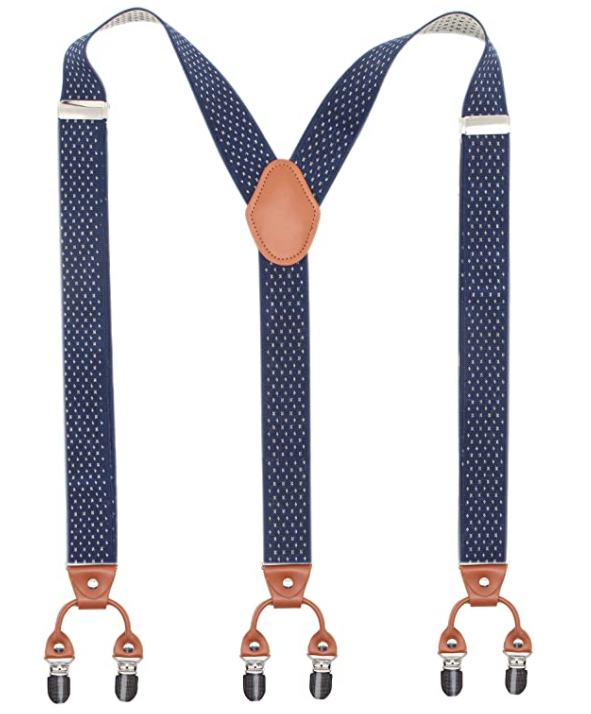 An absolute must have addition to your accessories arsenal. Ideal for both casual and formal attire. Depending on the occasion and the style you want to achieve every single time. Wear with jeans, khaki pants, work clothes, tuxedos, suits, fancy dresswear, tees and more.
Shot Shell Leather Suspender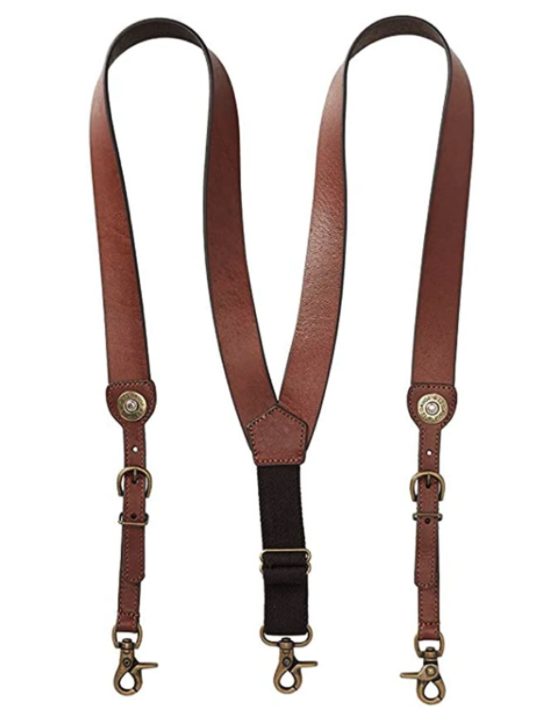 Made of heavy duty top-grain durable leather; they adjust at the buckles and have an adjustable back strap, swivel clasps lock securely onto your belt loops.
Western-style suspenders will give a Western flair to any outfit you wear, they have a classic, Western-inspired look that many suspender wearers love, and they're so durable that they'll last for years.
City Scape Suspenders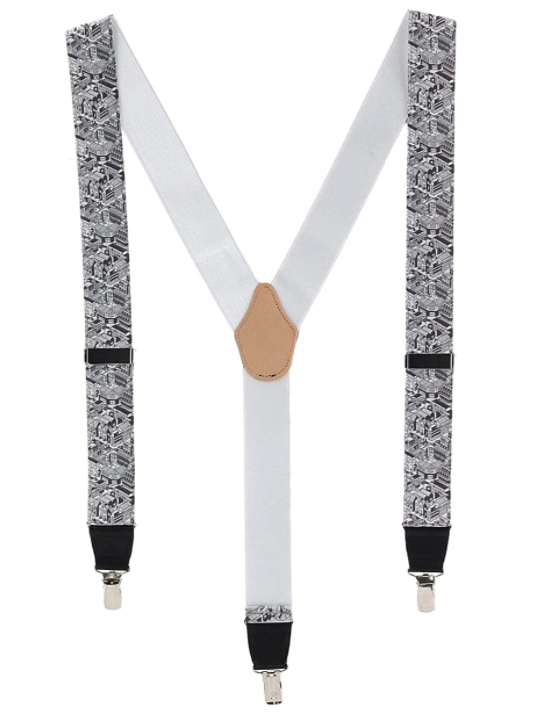 Measures 1 3/8 or 35mm wide, adjustable up to 46 inches
Silver finished adjusters, clips and rings
Genuine leather trim and tabs
Cool city landscape design
Made in England
Deer Silk Button End Braces (Suspenders)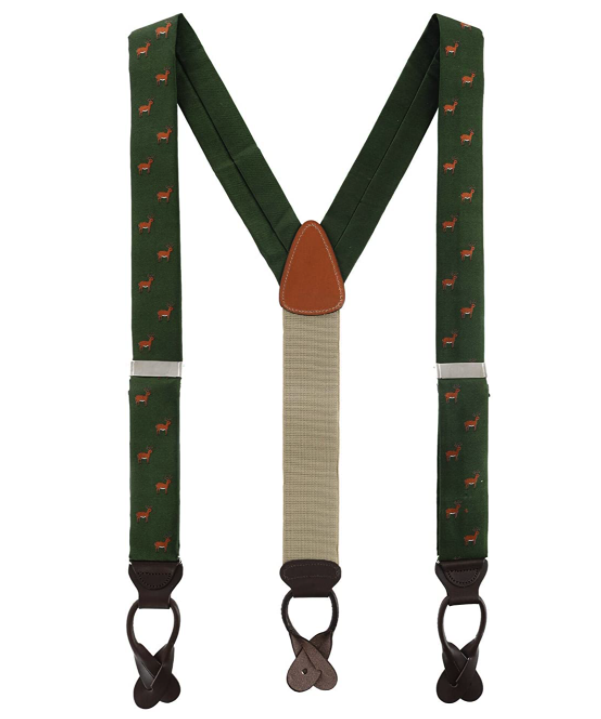 Measures 35mm wide
Adjusts between 32 and 45 inches
Majestic deer image on solid color
Solid brass adjusters and rings sourced from England
Genuine leather drop tabs. Each order include a set of six buttons to attach to your favorite pair of pants for your convenience.
We hoped you like our picks for the top groomsmen suspenders!