Weddings are expensive. We get it.
They you have a honeymoon to pay for. And the laundry list of expenses follows.
We've found some budget friendly cheap groomsmen gifts that won't break the bank that don't suck.
A lot of these options will help you save money by buying in bulk (ex. 6 or 8). For this list we aimed to have all options cost less than $20 per person.
Engraved "to My Groomsman" Pocket Watch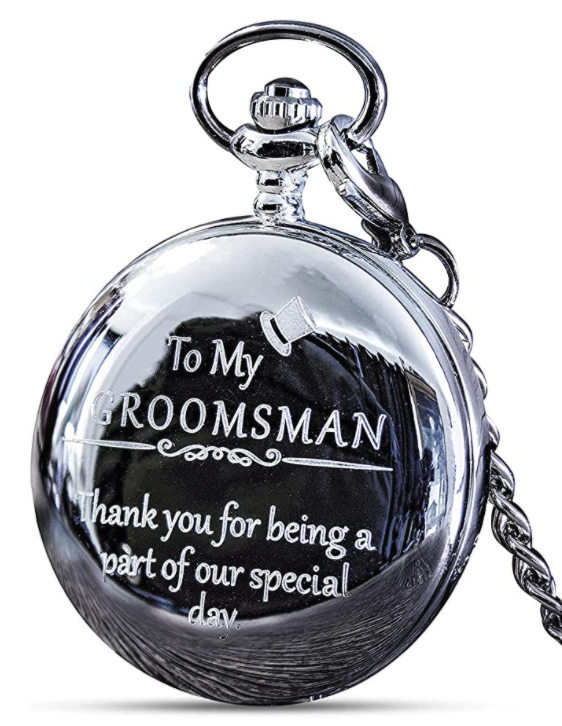 GROOMSMAN GIFTS FOR WEDDING – Want to give your Groomsmen/man a memorable gift to be kept forever? Our 'To my Groomsman' watch creates a moment they'll always remember.
DESIGNS AVAILABLE – Groomsman (available in Sets of 1, 3 & 5), Best Man, Groom, Father of the Bride & Father of the Groom. We offer generous discounts on Groomsman 3 & 5 Set's!
STUNNING – The watches have been beautifully crafted and designed for maximum impact
EXQUISITE DESIGN – Delicate etched engraving on a polished steel surface, precision Quartz movement and 45cm steel chain.
Set of 6 – Personalized Pocket Knives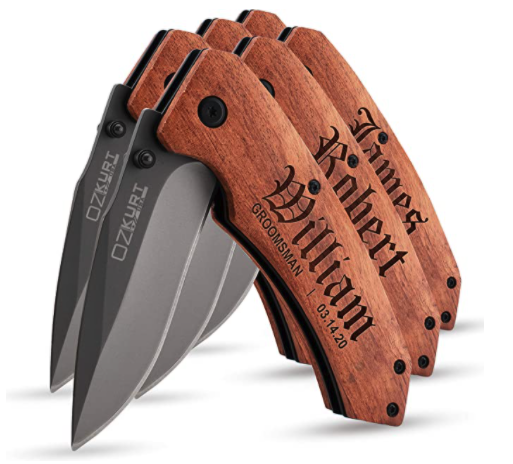 YOUR GANG WILL LOVE IT! – A great groomsmen gifts for Wedding, Bachelor Party and Engagement. Matching items are essential for a good friendship, this pocket knifes will take your gang to a next level!
FREE ENGRAVING – Click 'CUSTOMIZE NOW' to select your font and create a unique practical Groomsmen Pocket Knifes with lasting utility and great keepsake. Engraved tactical knives make a grea gift that can be used for years to come.
HANDY & STYLISH – 20 Cool and Stylish Fonts for your service. You can easily change and see fonts with your text while customizing. Bride & Maid of Honors will be jealous with your beautiful knifes!
PERFECTLY SIZED – SET OF 6 – For each 3″ long blade, 0.9mm thick. Knife is 4.2″ long overall with blade closed. Weighs 5 oz. Partially serrated, stainless steel blade can handle any job.
Personalized Groomsmen Flasks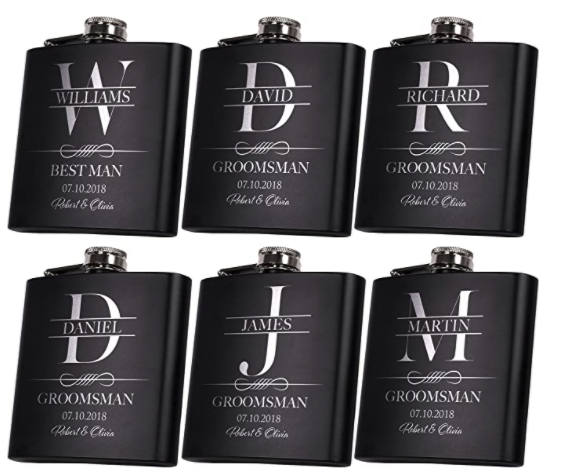 STYLISH & UNIQUE: This groomsmen gifts set is carefully designed and laser engraved to make sure the engravings are easily readable and won't fade away even after years of use.
GREAT GIFT – Perfect for the bachelor party or wedding day for the entire party. The groom, groomsmen, ushers, best man can all have their own personal flasks.
Consider the Optional Gift Box with funnels and shot glasses. Flask funnels make filling the flasks SO MUCH EASIER! Also shot glasses are perfect to share joy!
THOUGHTFULLY SIZED – Length: 3 5/8″ – Height: 4 1/4″ – Width: 0 7/8″ and Capacity of 6 oz.
Custom Men Toiletry Bags
CUSTOMIZE NOW: Amazing Items waterproof canvas and leatherette toiletry bags are customizable and perfect for your groomsmen. Please click "Customize Now" and start to create a unique flask and, it's totally free.
HIGH-QUALITY DURABLE MATERIAL: This exceptional toiletry travel bag by emissary is made of canvas and leatherette, which is known for its lightweight yet durable qualities, the perfect combination for traveling. This specific material is water resistant, making it safe for use in environments where it may become wet. Making this the perfect bathroom bag, shaving bag, and travel dopp kit.
CONVENIENT MULTI-USE BAG: Whether you are travelling for business or personal reasons, this canvas and leather toiletry bag will certainly meet your needs and is an extremely versatile wash bag that can be used as a traditional toiletry bag or shaving kit bag, a safe place to store your healthcare items while traveling, or it can be used as a carry-on airline bag to store needed in-flight toiletries.
THOUGHTFULLY SIZED: Our toiletry bags are 9.5″ L x 4.75″ W x 4″ H. Perfect sizing for traveling.
Sandalwood Beard Comb with Leather Case and Gift Box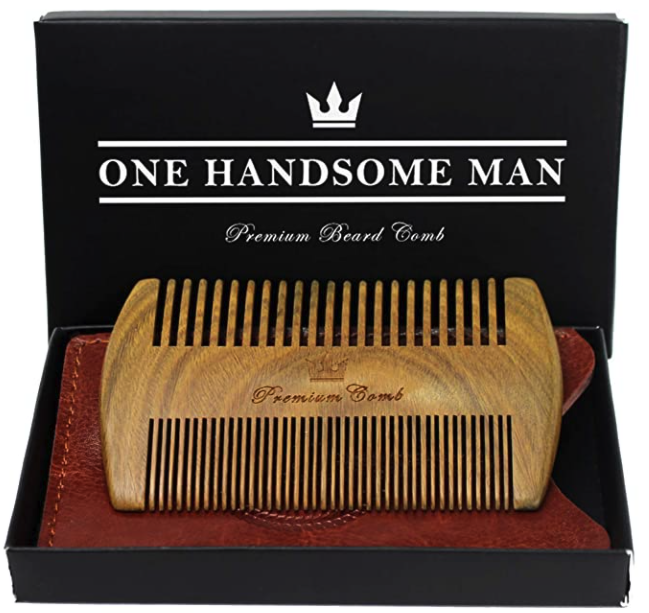 GROOM IN STYLE with this classic wood beard comb specially designed for mustache and beard styling. Stop using cheap beard combs for men and finally upgrade your game with this beard grooming kit.
HANDCRAFTED FROM 100% ORGANIC SANDALWOOD, for a wooden comb that looks as good as it feels–avoid dreaded beard fuzz. Women will love you for choosing this beard pick.
STYLE ON THE GO has never been easier with the sleek pocket beard comb design for quick touch-ups throughout the day. This wooden comb is defines what it means to live bearded!
Groomsmen Bottle Opener Sunglasses 8 Pack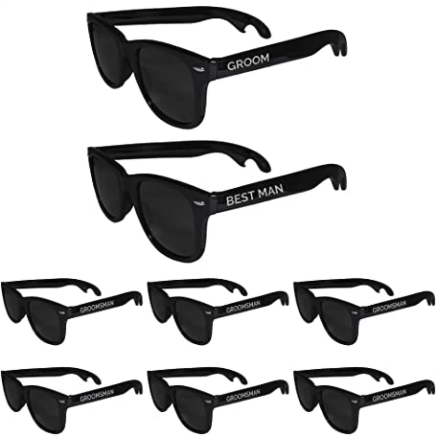 😎 THE FULL SET: This Bachelor Party supplies kit contains bachelor party sunglasses that are perfect for the whole gang making these perfect for Bachelor Parties, Weddings, and more!
😎 CELEBRATE IN STYLE: These wonderful Bachelor Party Sunglasses are specifically designed to help you add more glamour of the groom's big night and makes for fabulous photo accessories making these a must have for any event.
😎 SUPEIOIR QUALITY: Our Groom & Best Man & Groomsman Party Glasses are made using high quality, durable and eco-friendly material to provide you long term use. After you're done having a night of fun, you can use these like fabulous everyday glasses.
😎 THE RIGHT PROTECTION: Made using Uv400 lenses, these bachelor party favor sunglasses offer complete protection against harmful UVA and UVB rays while ensuring your look stylish making these perfect for both daytime and nighttime events.
Credit Card Multi Pocket Tool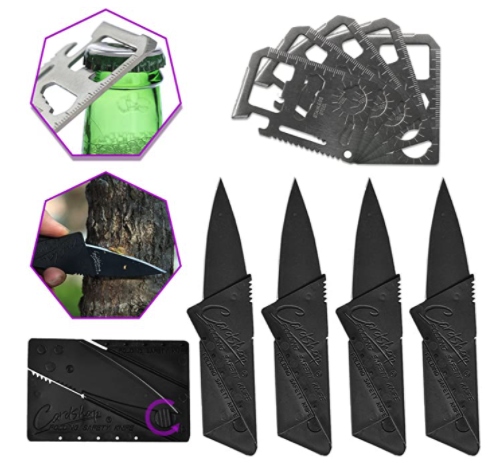 A MULTITOOL IN THE SIZE OF A CARD: It's unbelievable how one small card tool can function in 21 different ways!
The multitool card can easily fit in your wallet and your pocket, so you can carry it around with you everywhere you go. The lightweight and slim credit card tool does not occupy too much space.
Hex bit holder, a 30°, 45°, 60°and 90°speed square, a circle drawing template, and as a wrench of various inches.
Groomsmen Proposal Cards w/ Handwritten Note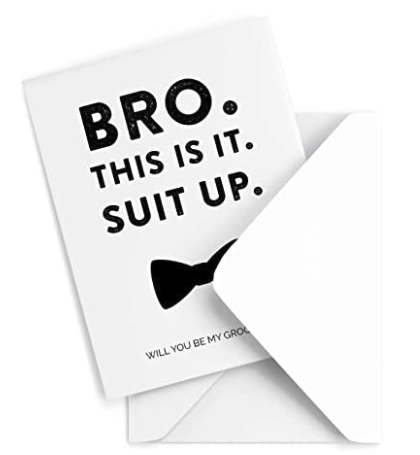 Who doesn't like a handwritten note? It doesn't cost a lot but can be meaningful.
★ THE FULL SET – This groomsmen asking and best man asking set comes with a total of 10 cards and 10 envelopes. It consists of 2 best man proposal cards and 8 groomsmen proposal cards.
★ SUPERIOR QUALITY – These hand-cut flat cards are 5×7 printed on 14pt gloss card stock with 10 A7 envelopes.
★ Pair these cards with a best man gift, best man box or a groomsman gift, groomsman box or any other proposal gifts.
Tactical Pen + Multitool
✔️RUGGED & HEAVY DUTY GADGETS || "The Pen is Mightier…" Has Never Rung More True! – Durable and Rugged, Made from CNC Machined AIRCRAFT GRADE ALUMINUM for Superior Strength. This cool pen multitool has been used by military pilots, Navy SEALs, first responders and other challenging professions and has stood up well to the rigors of daily use. If you've had issues with pens breaking in your pocket or bag and ruining your gear, this is the perfect solution to your problem.
✔️FEEL SAFE WITH THIS SELF DEFENSE TOOL IN YOUR POCKET || Safeguard Against Attackers in Emergency Situations with this Kubotan Style Pen. There are lots of self-defense products on the market, but we don't always remember to carry them with us. Whether you're facing the zombie apocalypse or just trying to get by WTSHTF, this is a great addition to your personal survival gear.
✔️EXCELLENT PERFORMANCE AS AN EVERYDAY USE PEN in Addition to Tactical Features. At 6" x 0.6", Functions and Looks Like Any Other High Quality Pen. Clip to your MOLLE System or Carry in Your Pocket, Briefcase, Laptop Bag, Backpack, Purse, or Bug-out Bag. Perfect for Your Rite in the Rain Book.
Groomsmen Coozies
Multipurpose Can Coolers: Unique beer, soda, beverage can coolers are perfect for the Bachelor Party, Wedding/Bridal Party, Rehearsals, Groomsmen Proposal, and much more.
Insulated Drink Protection: Constructed with a thick polyurethane foam to help retain your favorite hot or cold beverages temperature. Also prevents condensation to keep your hands protected at all times.
Durable, Portable, and Collapsible: Ideal for home, outdoor, or travel use. Our coolers can fit standard 12 oz cans and 16 oz glass/water bottles. They also collapse to easily tuck in your pocket or to throw in your bag/backpack for all your travel needs!
Bonus Pack. Includes 1 White Groom Coolie and 6 Black Groom's Drinking Team Member Coolies.
Shot Glass Set (1 Groom and 11 Groom's Crew Shot Glasses)
STYLISH DESIGN – Our package contains 11 "Groom's Crew" and 1 1.75oz "Groom" Shot Glass! Perfect Bachelorette Cups to post on Instagram and Snapchat!
PERFECT CHOICE- Each shot Glass has a decorative "Groom's Crew" on ONE SIDE or "Groom" on ONE SIDE
DURABLE & REUSABLE – Want to use these shot glasses again and again? No problem just quickly HAND WASH the glasses and they are ready for your next use!
Monogram- Engraved Beer Can Glass
HIGH QUALITY: This is a High Quality Durable Beer Can Glass that Provides the Feel of an Aluminum Beer Can, Incorporating Clarity and Sophistication of Glass. These glasses hold 16 oz.
LASTS A LIFETIME: The Beer Can Glasses are Laser Engraved, Which is Permanent, and Requires No Maintenance. Beer Can Glasses Will Not Fade or Flake and are Dishwasher Safe! Made and Packaged Safely in the USA
We hope you enjoyed our list and were able to finding a cheap groomsmen gift that fits the bill.